Note: Due to current circumstances, some information may be outdated. Please check official websites before you travel. Be advised this article may have links to products we make commission from.
Everyone dreams of visiting Neuschwanstein Castle, a nineteenth-century Romanesque Revival palace near Munich in the southern Bavaria region of Germany. It's no wonder, of course. It's one of the most beautiful castles in the world.
If you're visiting Germany and you're close enough to visit Neuschwanstein castle, you absolutely should make the effort. It's very much worth it. You can easily visit from the nearby major cities, and it's particularly easy from Munich.
In this post, we will show you how to visit Neuschwanstein castle from Munich specifically, but there is also general information about the castle that will help you plan your visit from anywhere.
Visiting other destinations in Germany? Check out our guide to traveling in Germany that includes information on many popular destinations like Berlin and Oktoberfest in Munich. Going outside of Germany? Here's our Europe travel guide.
Brief History of Neuschwanstein Castle
First, a little about the castle, in case you don't already know. King Ludwig II was apparently a bit of a recluse. He built the castle in order to escape from the public eye. To what would have been his utter dismay, just a few days after his death in 1886, his beloved castle was opened to the public, and it is now the most famous castle in Germany, and the most visited castle or palace in Europe.
According to the Neuschwanstein visitor website, "every year 1.4 million people visit 'the castle of the fairy-tale king'. In the summer around 6,000 visitors a day stream through rooms that were intended for a single inhabitant."
Visiting Neuschwanstein Castle
One of the highlights of a trip to Munich and the surrounding area is a visit to Neuschwanstein Castle. It's a fairy tale palace that is rumored to be the inspiration for the castle in the Disney classic, Cinderella. You can see it for yourself with just a quick trip from Munich and a little pre-planning to secure your tickets.
How to Buy Neuschwanstein Castle Tickets
If you want to do what we did and go from Munich to Neuschwanstein Castle, it pays to plan ahead, since you'll be competing for the available daily tickets with the other 5,999 visitors that day.
It is free to walk around the grounds of the castle and to view it from the bridge. No ticket is required to do that. However, you will need a ticket if you intend to go inside to see the Neuschwanstein castle interior. And really, why would you go all the way there and NOT go inside?
To go inside the castle on a tour, you absolutely must book your tickets in advance. They sell out fast, especially during peak times. The best way to book your tickets is online, directly with the ticket office. Skip the line tickets bought through a 3rd party seller are way more expensive for the same thing and not all of the tickets are accepted as valid at the box office.
If you want to go on a group tour so you don't have to do the ticket and transportation planning yourself, you can book a tour through Viator here. The ticket, transportation, and all the logistics are handled for you. Super easy way to do it!
Best Way to Purchase Tickets
If you go ahead with planning the trip yourself, the tickets for the tour can be purchased at the ticket office in the village below the castle.However, tickets are limited to a certain number each day so if you wait to get them until you arrive, you might be disappointed to find them all sold out.
I highly encourage you to prebook your tickets online, so you can avoid the line, and the obvious disappointment you'll feel when you learn there are no more tickets for the day.
PRO TIP: You must purchase online tickets no later than 3pm (Germany time) and at least 2 days ahead. I don't recommend you wait that long to book, especially if you want a specific time slot. This cut off time also applies to any changes you wish to make to your reserved time. You cannot make changes after this time.
If you show up the day of and they still have tickets available, there is no guarantee when the entrance time will be. It's very unlikely that you'll be able to pick your first choice time slot, unless it's in the dead of winter or no one else is there. That doesn't happen very often. So be prepared to stick around all day waiting.
If you're going to follow our train instructions to get from Munich to Neuschwanstein Castle, you cannot reserve tickets before 2:30pm. This is because you must pick up your tickets at least 1.5 hours before your reserved time, and you won't arrive at the ticket booth until 12:30pm at the earliest (if you take the cheaper 9:52am train mentioned below).
Price for Tickets:
Neuschwanstein Tour Only: 13 euros for adults, free for under 18 accompanied by a parent. There is a 2.50 online booking fee.
Hohenschwangau Tour: 18 euros for adults
Hours of Operation:
Tickets on sale at the Ticket center: April to 15 October: 7.30 am-5 pm; 16 October to March: 8.30 am-3 pm
Opening hours of Neuschwanstein Castle: April to 15 October: 9 am-6 pm; 16 October to March: 10 am-4 pm
Open daily except 1 January and 24 / 25 / 31 December
How to Get to Neuschwanstein Castle From Munich
It's really easy to get to the castle from Munich. You can rent a car and drive, but we found that the easiest method for reaching the castle is to take the train that leaves from the main train station (Haupbaunhof) in Munich. It will take you the entire day to get there, spend time looking around, and get back on the train, but it is both inexpensive and easy to do.
Here are the details:
Take the train to Füssen from the Munich Haupbaunhof that leaves at 9:53 am. Why this time, exactly? There is a really cheap train ticket option called the Bayern ticket, which allows you to travel on all trains and buses throughout Bavaria Monday – Friday, from 9am to 3am the next day, for just €23. If you're traveling with other people, it's even cheaper because it's only an additional €5 per person, up to 5 people.Note: If you're planning to go on a weekend, the Bayern ticket is valid from midnight to 3am the next day, so you can take the 8:52am train instead. You have to buy the ticket from the station AFTER 9am. If you're not already at the main Munich train station, you can use the ticket you just bought to get there.  Then get on your 9:52am train to Füssen. The first train leaving Munich after 9am is at 9:52am.
The train departs from Platform 29. It's the farthest train to the far right of the train station. It takes about 2 hours and 5 minutes to reach Füssen. (Pro Tip: Sit at the front of the train. When you get off in Füssen, this will allow you to beat the rest of the crowds to the bus that will take you up to the castle, saving you quite a bit of time and maybe earning you a seat for the ride.)
When you get off the train in Füssen, walk around to the other side of the train tracks and you should see the bus waiting there. You want bus 78 to the castles. The bus ride takes about 20 minutes.
Alternative to Planning The Trip Yourself
Although we've done our best to make this journeys as easy as possible for you to book and execute on your own, we know there will be some of you who don't want to have to figure all of the details out. That's totally fine. There's an alternative to doing it yourself. You can book this group tour that leaves from Munich.
You'll be with a tour guide the whole day, so they can help you navigate the train, the bus and the entrance tickets for the castle. This tour is very convenient, because it includes the cost of the train and the guide. They will secure the entrance tickets for you, for an additional €15, so you don't have to worry about entrance times, or picking up your tickets on time.
Entrance to the castle is optional on this tour, so you can choose to do something else with your time, if you don't want to go inside. The tour also includes a visit to the Hohenschwangau castle. It's the best way to go if you don't want to plan it yourself. The tour is only $67 USD.
Book the Tour here
What to Do Once You Arrive
When you arrive in Hohenschwangau, you can follow the crowd up to the visitor center, up the hill to the right. If you have already reserved your tickets, you pick them up at a separate counter for "reserved tickets" at the Ticket Center. If you don't have tickets and are hoping to get some, stand in the regular line.
You have to pick up reserved tickets at least 1.5 hours before the confirmed entrance time or you forfeit them. If you don't pick-up the tickets on time, you will also be charged a double service fee per ticket for the no-show. If you can't make your reserved time, you have to cancel at least 2 hours before your time to not be charged for the tickets.
How to Get to the Castle
There are three possible ways to get up to the castle, which is perched high up on the mountain.
You can walk up (it's a long, steep climb – 1.5km – a 20-30 min walk)
You can take a bus for just €2,50 uphill and €1,50 downhill or €3 RT (which you find just past the ticket office up the hill – pay on the bus)
You can ride in a horse-drawn carriage, which you also purchase and board near the buses (but think of those poor horses!). Uphill: € 4,50 Downhill: € 2,00
However you arrive at the top, you'll be dropped off at the entrance to Marienbrücke, the suspension bridge that overlooks the castle, where everyone gets those amazing photos, like this one:
Beware, the bridge can get extremely packed with people, all pushing to get the best view. There are more selfie sticks on the bridge than you'll ever see again in one place.
PRO TIP: Don't bother standing at the start of the bridge. Make your way further onto the other side of the bridge and you'll have way more space.
After you've taken all the pictures you can stand, you'll head back down to where the bus dropped off, and head down the path on the right, which takes you about 600 meters downhill to the castle itself. There are some great photo-taking spots along the way, so leave enough time for gawking.
Around the other side of the castle and up the steps is where the lines form for tours. You'll see an electronic board displaying the ticket group number (which you'll find on the face of your ticket). When your number is displayed, you enter the line. The tour lasts for about 35 minutes.
After the tour, you can walk back down or take the return bus. We chose to walk down. You'll pass by a large area with benches and free wi-fi, presumably so you can send all those selfies out into the world – but there is no free wi-fi anywhere else, so take advantage, if you need to. There are also some pretty amazing views on the walk, like this one of Hohenschwangau Castle.
Where to Eat Near Neuschwanstein Castle
About halfway down the hill from the castle is a restaurant with a nice view and an outdoor patio (for nice days), called Schlossrestaurant Neuschwanstein.
The menu is pretty much the same as the restaurants at the bottom of the hill, so if you're hungry and can get a spot, I would recommend staying there to eat. Alternatives can be found in Hohenschwangau, on the same street with the ticket office. We passed up the restaurant on the hill, thinking it would be overpriced, but then wished we hadn't, because the prices at the bottom were the same.
But we did find a great restaurant, Restaurant Kainz, which had a great view of the castle from the far side of the outdoor patio, plus some really good food!
After lunch, we headed off to have a look at the second castle in Hohenschwangau.
Visiting and Touring Hohenschwangau Castle
Remember that Neuschwanstein isn't the only castle to visit and tour in town. Another, smaller castle can be found by walking up the hill behind the ticket office.
Hohenschwangau Castle isn't as magnificent and storybook-looking as it's bigger cousin, but it's definitely worth a visit. The same ticket process applies to the tour of this castle. But the only way to get up there is by walking.
Note: You are not permitted to take photos in either castle. When you've finished with your visit, head back down to the Visitor's center to catch the bus back to the train. A note about the train. When we were there, there were two trains we could get on – one was a straight shot with no transfer, but the other involved a transfer.
Take careful note of which one you're on. The conductor will alert you that you must transfer at a specific point. When you exit the train, look for the signs to Munich to make sure you're getting on the proper train. If you've ever wanted to visit the castle, keep in mind how easy it is to go from Munich to Neuschwanstein Castle. It's a great day trip, and very much worth the time.
Hotels Near Neuschwanstein Castle
If you plan instead to stay over a night or two to explore the area around the castles, here are a few recommended hotels near the castles.
Hotel Villa Ludwig – Located very close to town, with a fantastic view. The hotel is really well-appointed and a great choice for affordable luxury. The addition of afternoon tea is great. They can also make your castle reservations for you. Very easy walking distance to both castles. → Book a stay at Hotel Villa Ludwig or read reviews on Trip Advisor.
Hotel Mueller – This hotel offers one of the most convenient locations to the ticket office and the start of the walks up to both castles. It's located right in the little town of Hohenschwangau, close to many restaurants and shops. → Book a stay at Hotel Mueller on Trip Advisor.
Conclusion
If you have extra time while visiting Munich, we highly recommend making this trip. It is true fairytale castle that you just must see. Plus, it's so easy to get there from Munich. Why not! Have you been to Neuschwanstein Castle from Munich? Tell us about your experience in the comments.
Like this post? Why not share it on your Pinterest board!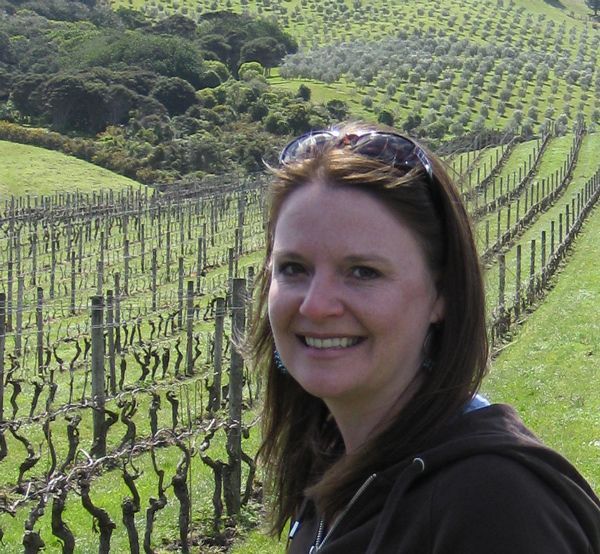 Laura Lynch, creator and writer of Savored Journeys, is an avid world traveler, certified wine expert, and international food specialist. She has written about travel and food for over 20 years and has visited 70+ countries.