Note: Due to current circumstances, some information may be outdated. Please check official websites before you travel. Be advised this article may have links to products we make commission from.
Asia is a stunning tapestry of ancient civilizations and diverse landscapes, gleaming skyscrapers and sprawling metropolises. Suffused with intrigue and adventure as well as solace and mysticism, Asia has fixated, confounded, and charmed countless travelers for thousands of years. Yet, what makes this continent so unique and mystifying?
Here are seven incredibly spectacular travel destinations in Asia that will surely gratify your wanderlust, fill your craving for exotic fare, and satiate your thirst for thrilling exploits.
Destinations You Must Visit in Asia
Bali
Bali is more than just pristine beaches and spectacular temples. It is a mosaic of breathtaking mountains, vast rice fields, sacred rivers, magical waterfalls, and fascinating culture. Whether you are looking for profound spiritual enlightenment, endless parties, topnotch surfing sites, or satisfying culinary experience, this world-renowned tropical island has something to offer.
You will never lack for luxurious accommodations in Bali, from exquisite resorts perched in tranquil and lush highlands to ultra-exclusive hotels set on cliffs overlooking the immense blue ocean to quaint villas built in the traditional Balinese style.
Like its innumerable attractions, Bali has a plethora of food choices – from the simple to the complicated. These include mi goreng, fried noodles served with vegetables, pork, chicken or seafood; sate ayam, skewered chicken marinated in spices, barbequed, and usually served with peanut sauce. There's also the babi guling, roasted pork stuffed with coriander seeds, lemongrass, chilies, black pepper, and ginger. After a hearty meal, it is time to explore the unique wines in Bali. Try Arak, a type of distilled liquor traditionally made from sugarcane.
>> See more great things to do in Bali
India
India can be perplexing and frantic, but it exudes an appeal that surprises, amazes — and, inevitably, draws you back. A luxury holiday to South India, in particular, radiates a magnetic pull with its captivating heritage, bustling bazaars, sophisticated cities, fiery sunsets, exceptional boutique hotels, and delightful cuisines that are distinctly South Indian. From breakfast staples to sugary desserts, the region never runs out of sumptuous and unforgettable dishes.
For breakfast, try dosa, paper-thin crepes made of fermented rice-and-lentil batter, usually eaten with sambar (hot lentil soup) and coconut chutney; idlis, steamed rice cakes; vada, crispy, deep-fried, savory donuts.
For a main dish, go for the flaky flatbread malabar parotta paired with Kerala-style spicy beef made of chunks of meat blended with ground spices, chilies, black pepper, and coconut milk. To delight that sweet tooth, South India serves pasayam, a milky, sugary rice pudding, sometimes flavored with cashews, almonds, and cardamom.
Your filling South Indian meal often deserves a glass or two of wine. Try the Krsma Sangiovese, distilled at a boutique winery near Bangalore, Myra Reserve Shiraz, with its hint of spice and aromatic fruit flavor, or Sette, the celebrated Indian red wine straight from the Fratelli Vineyard's cellar in Akhluj.
Vietnam
Vietnam is home to alluring landscapes, vibrant culture, bittersweet history, warm-hearted people, and the world-famous Pho. Yet, there is more to Vietnamese food than just Pho. The country's cuisine successfully blends healthy with savory, making Vietnam a popular destination not only for adventurous travelers but also for food enthusiasts.
What makes Vietnamese food stand out is the generous use of fresh herbs and greens, usually combined with noodles, rice, meat, or seafood. Surprisingly, the best places to find these delectable delicacies are at bustling street markets, roadsides cafeterias, and nondescript-looking restaurants.
Be sure not to miss Banh Mi, a baguette filled with meat, pate, cucumber, coriander, pickled carrots, and radish, combined with chili and mayonnaise. Try Bun Cha, a dish of vermicelli noodles dipped into bowls of ground and whole pork soaked in a sauce made of fish sauce, sugar, and vinegar.
Vietnam's wine culture may not be as extensive as its cuisine; however, it does have a few remarkable locally made wines. Among these are Son Tinh, Vietnamese rice wine, Vang Dalat, made from grapes grown in the country's mountainous regions of Dalat, and Passion Wine of Chile, which is definitely a Vietnamese creation despite its name.
Thailand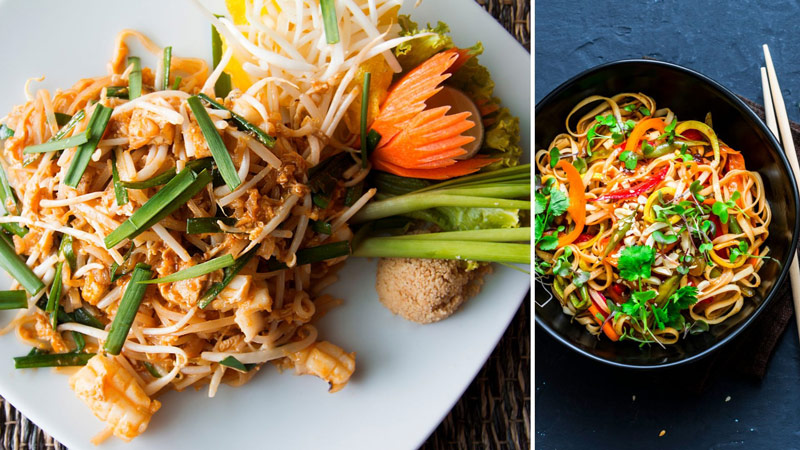 Whether you're a first-time traveler or a seasoned backpacker, you can never go wrong with Thailand. The country is abundant with splendid beaches and diverse wildlife on one hand and teems with a wide array of luxury hotels and a pulsating nightlife on another.
One of the biggest attractions in Thailand is, arguably, its incomparable cuisine. It offers such a wide variety, the options seem infinite, from tom yum goong (shrimp soup) to tom khai gai (chicken in coconut soup), som tam (green papaya salad) to yam talay (seafood salad), and pad thai (Thai style fried noodles) to pad see eiw (thick noodle dish). Thailand is also known for its interesting variations of curry – panang curry, green curry, creamy coconut curry.
The country has its own share of noteworthy wines, which are easily recognized for its fruity and dry flavors. Among these are Extra Sec Rose, Granmonte Vineyard Cremant, Pirom Chenin Blanc, and Cuvee de Siam.
Sri Lanka
Sri Lanka has been dubbed the Pearl of the Indian Ocean, and rightly so. Not only does it feature ancient temples and forts, picturesque coastline, lush jungles, and verdant tea plantations, it also has its fair share of luxurious boutique hotels, superb beach and mountain resorts.
It may come as a surprise, but Sri Lanka has all the makings of an ideal luxury holiday destination. You can stay at the Galle Face Hotel in Colombo and sip tea as you watch the sun set over the Laccadive Sea. Take a stroll along Galle Fort, a UNESCO-protected site, famous for its colorful streets, curious cafes, swanky bars, and amazing view of the sunset atop the fort walls. Make sure you experience a wildlife safari in one of the country's national parks, or relax at a gorgeous beach in Sri Lanka's southern coast.
A luxury trip to Sri Lanka is incomplete if you don't indulge in its flavorful cuisine. Curry paired with rice is Sri Lanka's quintessential dish, so it's unsurprising that all kinds of curry – from dahl to chicken to jackfruit – are available in almost everywhere in the country. Being an island, Sri Lanka has an excess of seafood. Be sure to try its barbequed fish, prawns, lobsters, and crabs.
Philippines
Comprised of 7,107 islands, The Philippines is often associated with pristine beaches and postcard-worthy islands. But the country is more than just a conglomeration of beautiful beaches and idyllic islands. It is a hoard of stunning landscapes, diverse wildlife, rich heritage, thriving cities, rustic countryside, and resplendent festivals.
Philippine cuisine may not be as well known as that of Thailand or Vietnam. However, it deserves recognition for creatively infusing European, American, and Asian influences. Philippine cuisine unapologetically combines unfamiliar flavors that result in unpretentiously delicious, albeit often unhealthy, dishes. Take, for instance, the world-famous lechon, the iconic adobo, the heart-warming sinigang, and the exotic balut. The cuisine is not for the faint of heart, literally and figuratively. It is, however, a gastronomic adventure worth undertaking.
Like its cuisine, Philippine wines range from ordinary to downright odd, from tuba, the country's oldest recorded alcoholic drink, to coffee wine, the first in the world, to mango wine which is known for its fruity aroma and smooth flavor.
>> See more things to do in the Philippines
Singapore
Singapore is a tiny country with enormous opportunities to offer. From old temples and historic ports to green spaces and lively hawker centers to cultural events and impressive skyscrapers, this island country provides visitors with copious prospects to discover.
The city is sprawling with world-class eats that cater to every palate. It boasts of 44 Michelin rated establishments, including three-star restaurants Odette and Les Amis. Those who want to explore Singapore's food scene like a local will not be disappointed with the country's vigorous and impressive hawker food culture.
The hawkers of Singapore feature Chinese, Indian, and Malay specialties that serve chicken rice, chili crabs, various curries, rojak, and satay. On top of this, Singapore hosts an array of festivals that draw food connoisseurs from around the world. These events include the Singapore Food Festival, the Singapore Cocktail Festival, the World Gourmet Summit, and The GREAT Wine and Dine Festival.
CONCLUSION
Try one of these great Asia destinations for your next holiday or vacation. There are so many wonderful things to see in each place! Have you been to these places or want to add another to the list? Share it in the comments!
Laura Lynch, creator and writer of Savored Journeys, is an avid world traveler, certified wine expert, and international food specialist. She has written about travel and food for over 20 years and has visited 70+ countries.